What goes around… New e-cargo bike for FareShare Sussex
The e-cargo bikes may have changed but the branding remains the same for FareShare Sussex zero-energy Brighton food distribution project
The UK's wholesale food industry is warning this week that it will no longer be able to protect consumers from price rises but about by soaring transportation costs and and problems attracting new workers. It is reassuring to know then that grassroots organisation FareShare Sussex is working ever harder to ensure that food that might ordinarily go to waste is being redirected to people who really need it.
Creating a memorable identity
Clean, green brand identity for FareShare Sussex's zero-emission e-cargo bike
Shows the organisation's relevance and sustainability credentials
Talks directly to the target audience and the wider community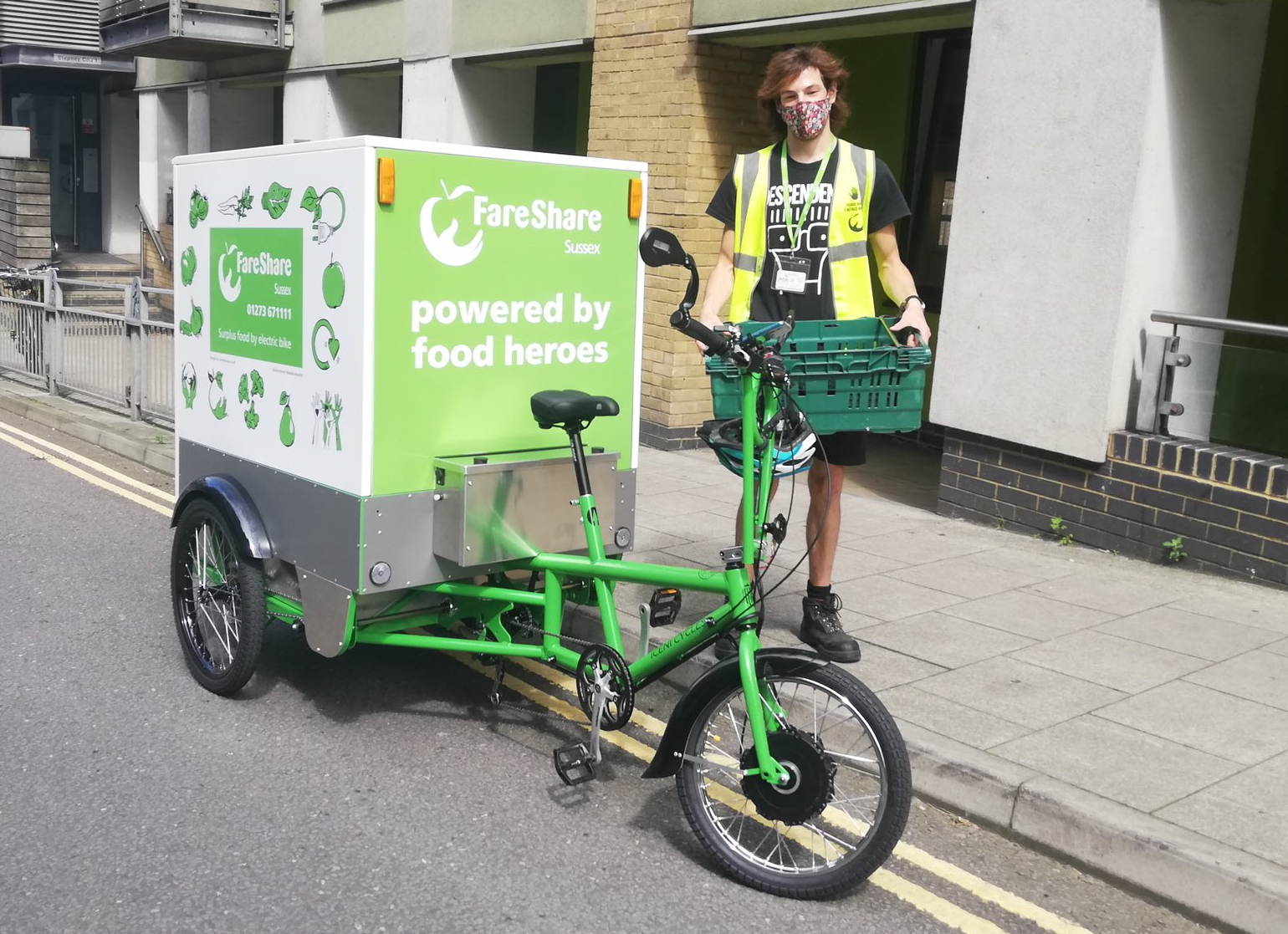 Illustration for FareShare Sussex's e-bike by @sandrastaufer.
Interestingly though, this effective, successful and award-winning food charity is not one to sit on it laurels. In July 2020, FareShare Sussex embarked on a three-year project, funded by circular economy charity WRAP, to use environmentally friendly transport solutions to increase its ability to redistribute surplus food. In the main, this project is proving a great success: introduction of an electric van, for example, has saved £1,8000 on annual transport costs and 4,800kg of direct carbon dioxide emissions. The introduction of a pioneering temperature-controlled e-cargo bike, on the other hand, wasn't quite as successful.
Whether or not Einstein actually uttered the words 'failure is success in progress' is open to debate, but whoever did so had a point, as we never really know how well something works until we actually try it out. And if something doesn't quite cut the mustard first time around, chances are that a reflectively modified, better-thought-out version will be both more efficient and better suited to its desired function than any prototype.
And so this has proved to be the case with FareShare Sussex's zero-emission refrigerated e-cargo bike, which proved unsuitable - too heavy and under-powered, for Brighton's hilly city landscape. Since June 2020, however, FareShare Sussex has been piloting two new lighter-weight and more powerful electric vehicles, with great success.
One aspect of the FareShare Sussex project which proved spot-on first time around, however, is its playful green and white branding. Last year, I collaborated with local graphic designer Richard Excell, of Excell Design together with Hove-based advertising products supplier TJ's Branding Solutions to produce the e-bike's temperature controlled unit's exterior wrap, with its clean-lined graphics and fresh, original illustrations of 'dancing' fruit and vegetables.
As a committed eco-enthusiast and self-builder, I was thrilled to learn that my design would be part of this innovative community project. I have very strong views on both food waste and food poverty and immediately recognised the importance of the work FareShare Sussex does. Some 3.6 million tonnes of good food is wasted by the UK food industry every year, while millions of people are struggling to afford to eat.
FareShare Sussex addresses both these issues by redistributing food industry surplus - food which would otherwise be wasted - to the people who need it most. It provides food to charities and groups that deliver additional services such as advice and guidance, health support, counselling and befriending, and using food as a vehicle for good above and beyond alleviating hunger.
From the outset, FareShare Sussex wanted its new bike to look the part, with its vehicle branding reflecting its function as well as advertising its superlative environmental credentials. As well as showing people what FareShare Sussex does, and how it does it, the bespoke illustrations used in the e-cargo bike branding have helped to create a memorable identity and invite wider involvement in the work of FareShare Sussex. They have helped to instill trust and to build on the organisations' accessibility, community relevance and sustainability credentials.
It seems apt somehow that a four-wheeled zero-emission e-cargo vehicle is now part of a virtuous circle that's actively helping break the cycle of food poverty across the county.
If you're interesting in learning more about FareShare Sussex, contact development manager Kelly Dibbert here faresharesussex.org.uk