Case study: Personalised Avatar for digital marketing
Lauren Psyk - Photographer - Copywriter - Marketer
Personalised avatar for digital marketing
Background
I met Lauren through networking when we discussed the idea of a personalised avatar which could serve for a LinkedIn profile, social media profiles and the website.
The challenge
Creating the right avatar to represent a person's brand is quite a challenge, as it is so personal and long-lasting. I experimented with a few different styles and we agreed on the most appropriate.
Our solution
This project was full of creativity and a pleasure to undertake especially as it will impact the brand identity and conversion rate of Lauren's business.
Creating
a personalised customer experience
Lauren offers bright, natural, colourful photos full of personality and sharp, lucid and expressive copy. A personalised avatar is the best way to show that love for creativity and individuality. This will stick in people's minds and hearts.
To find the right style suited to her brand I drew up some sketches in a variety of realistic to more cartoon-like styles. This was then tested in various platforms and final artwork produced.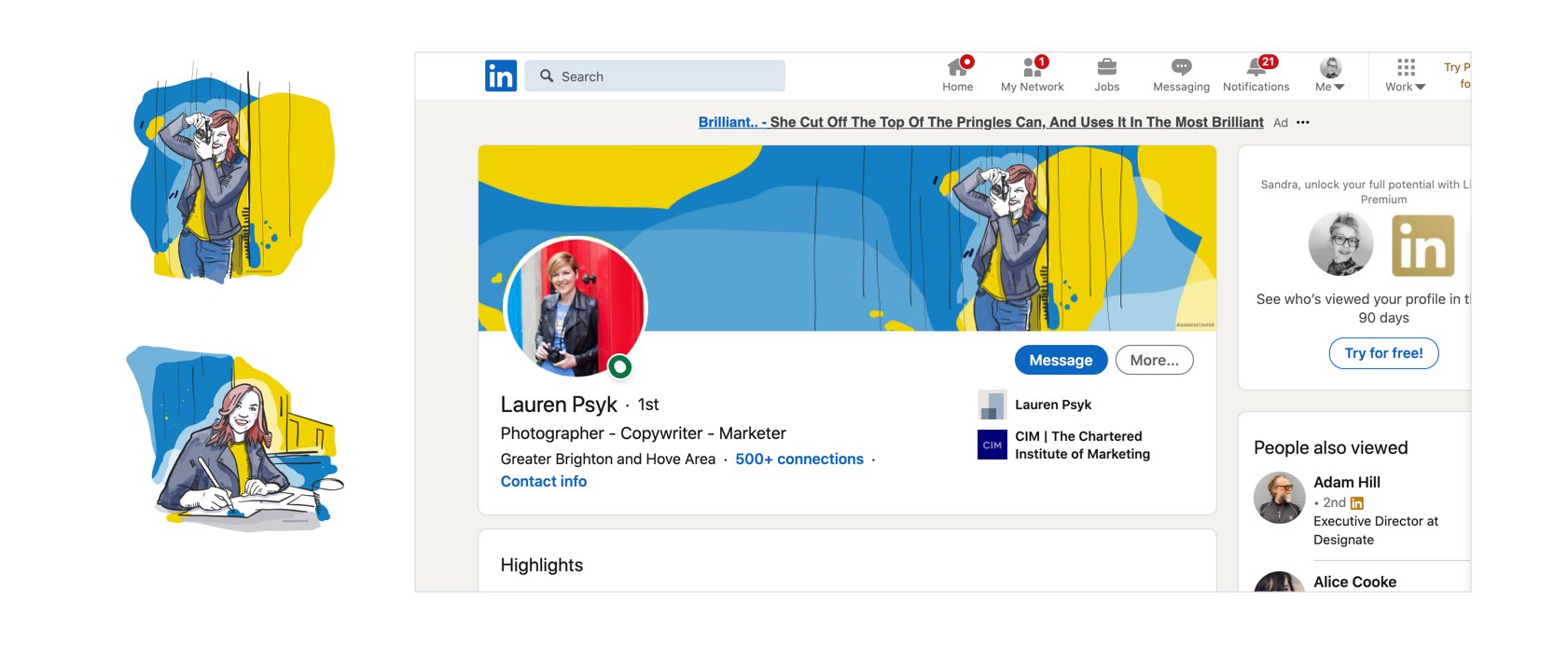 A personal profile
for Dougal too....
Lauren's dog Dougal has his own Instagram profile @dougal_poochon with 1k+ followers, oh yes. So we decided to treat him to his own personal avatar too..

Key benefits
of a personalised avatar character
In a constantly changing digital landscape, it is important to make sure that your customers are paying attention to your brand
Creates a memorable impression on consumers = positive brand story
Ensures that the customer experience is immersive, humanises the brand
Forms a brand-user relationship
Helps to recognise your profile quickly
Shows continuity and creativity
Talks directly to the target audience
Good story telling
Adds a touch of humour
"I worked with Sandra to create some illustrations for my marketing, to use on my social media and my website. The illustrations Sandra created are spot on - they are perfectly on brand for me. They are bright, bold, fun, unique and really eye-catching. I am delighted with them! Sandra is very talented and a delight to work with. "
Lauren Psyk